Motorcycle Theory Test What to Expect
This section details what to expect on the day of your motorcycle theory test along with other tips and advice.
Prepare all necessary documents and plan your journey in good time as arriving late for your theory test is likely to see you unable to sit the test and also lose the test fee. You'll need to re-book and pay for the test again.
Theory test centres operate specific allocated time slots per candidate and so are unable let you sit the test if you're late, else it will disrupt other candidate times.
Many candidates lose their test fee each month due to arriving late. Some theory test centres have parking facilities, whilst other do not. If arriving to take your motorcycle theory test by car, research parking facilities close to the centre before leaving.
Some test centres can be difficult to find and others may not be clearly signed and may be integrated into a complex building with other businesses. If you are unfamiliar with the area, plan your route well before leaving to ensure you know exactly which route you need to take.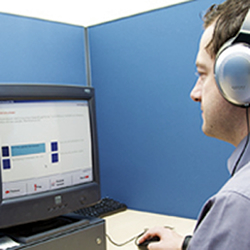 You may also need to allow for extra time depending on the time of day. Many towns and cities see increased traffic congestion at particular times of the day, typically around 8 am – 9 am and 4 pm to 6 pm.
Arriving at the Theory Test Centre
Entering the theory test centre reception room, reception staff will take your name, booking details and documents. Any personal items you may have on you such as a mobile phone for example, you'll be asked to leave in one of the lockers provided.
Cheating on the motorcycle theory test is of course prohibited. If any items are found on your person that are disallowed from taking into the test room, your theory test will immediately be terminated and you'll be asked to leave.
Once your booking has been confirmed, you'll be asked to store any personal items in a locker and to take a seat and wait for your name to be called when your allocated time is ready.
Taking the test
When your name is called, you and other test candidates will be asked to follow a member of staff into the testing area. You'll be briefed on the test; where you'll be asked multiple choice questions on the first part followed by a hazard perception part for the second part. You'll also be informed that you can take a short practice session before the test begins. If this is your first motorcycle theory test, it's a good idea to run through the practice session so that you fully understand what's involved.
Each test booth is partitioned so that you cannot see other candidates. You will however be informed that speaking or interacting with other candidates during the test is prohibited. A member of staff will remain in the room and oversee the test until finished.
At the end of the test
Once the motorcycle theory test has finished, you will receive a printed document that will inform you of your results. The test, both parts together will last approximately one and a half hours, though this time can be shortened as you are able to answer the multiple choice section as quickly as you like.
Remember though, the motorcycle theory test is valid only for two years. If you do not pass the relevant practical tests within this time, you'll have to take the theory test again.
Further information
For frequently asked questions and pass mark details on the motorcycle theory test, see: