Motorcycle Test Clothing Rules
Now that you have taken compulsory basic training (CBT) and have successfully passed the motorcycle theory test, the next stage is the motorcycle module 1 and module 2 test.
The last thing you need is for your test, or tests if you taking them on the same day, to be cancelled by the Driver and Vehicle Standards Agency (DVSA) due to unsuitable clothing. During CBT element A, you will have discussed legal requirements on protective equipment and suitable clothing to wear whilst riding.
If you do arrive at the test centre wearing inappropriate clothing, time permitting, your examiner will give you the chance to find suitable clothing before your test goes ahead.
If you are unable to source suitable clothing, it's likely the DVSA will cancel your test. The DVSA will not refund the test fee, they will not pay out-of-pocket expenses and you'll need to book another test.
Safety Helmets
Regardless of the type of clothing you choose to wear, it is a legal requirement that all riding test candidates wear safety helmets that must conform to BSI or EU safety standards, that are correctly fastened along with suitable eye protection.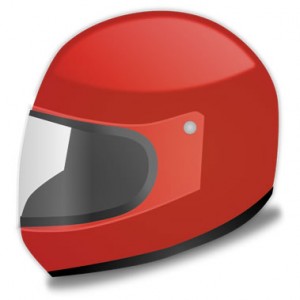 The only exception to wearing a safety helmet is for members of the Sikh religion wearing a turban.
Appropriate Motorcycle Test Clothing
Below provides a general guide to motorcycle riding test clothing rules
Proper motorcycle boots
Sturdy footwear or boots that provide support and ankle protection
Textile or leather motorcycle trousers
Heavy denim trousers
Textile or leather motorcycle jacket
Heavy denim jacket with several layers underneath
Motorcycle gloves
Unsuitable Clothing for the Motorcycle Riding Test
Below provides a general guide of clothing that is no appropriate
Lightweight training shoes
Canvas or textile trainers
Any type of clothing with areas of exposed skin
Lightweight tracksuits
Ripped jeans
Lightweight fleece or hoody
No gloves or skiing gloves