Module 1 Cornering and Controlled Stop
The module 1 practical riding test involves demonstrating to the examiner your ability to keep your motorcycle under full control whilst on-site.
Upon completion of the U-turn, the examiner will explain by use of a diagram that they wish you to demonstrate the cornering and controlled stop exercise. As can be seen from the diagram below, the cornering and controlled stop exercise will begin directly where the U-turn finishes. The illustration demonstrates the exercise on a right-hand circuit, though you may be required to demonstrate the exercise on a left-hand circuit.
There is no minimum speed requirement for this exercise and it can be carried out at your own speed though the examiner will recommend a speed at which you should try to meet of between  30 – 50 km/h (20 – 30 mph) as you ride though the speed measuring equipment.
What the Examiner is Looking For
The examiner will expect all safety observational checks before starting the exercise, just as though you were out on a public road. (See safety observations in moving off on a motorcycle for further information).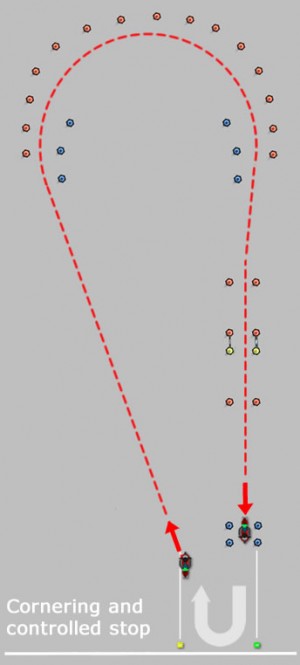 Move off and head towards the top left corner (based on the right-hand circuit), reaching around 20 – 25 mph. As you approach the corner, roll off the throttle to reduce speed and keep between the blue and red cones. Keep your reasonably slow and steady for the corner.
At the top-end of the circuit, follow the red cones round and exit between the blue and red cones at the top right corner. Increase speed once again to 20 – 25 mph.
Keeping between the cones, ride back down the circuit heading for the four blue cones. Around half-way from exiting the corner and the controlled stop area, begin to ease off the throttle.
Remember this is a controlled stop, not an emergency stop. If conditions are dry, apply the front brake slightly earlier than the rear. If conditions are wet, apply brakes simultaneously.
Apply brakes progressively, gently and smoothly, ensuring you stop under good control and not exceeding the area of the four blue cones. See motorcycle braking techniques for further information.