Motorcycle Riding Test Centres Cornwall
Provided are the address location, type of motorcycle tests provided and other facilities for motorcycle riding test centres in Cornwall.
Currently there are four motorcycle test centres within the Cornwall area. To take the module 1 or module 2 test, you'll need to use an official Driver and Vehicle Standards Agency (DVSA) testing facility, all of which are detailed below for the Cornwall area. Not all centres provide both module 1 and 2.
The module 2 test is on-road and will see the examiner take you on many varied roads from rural, high speed and urban. The motorcycle test routes may offer an insight into the different types of roads and systems you can expect during your module 2 practical riding test.
Test routes start from the test centre and range for several mile radius and involve many varied road types. Practice the areas local to your test centre as statistically, many tests are failed here.
Bodmin MOTORCYCLE RIDING TEST CENTRE
The Dragon Leisure Centre
Lostwithiel Road
Bodmin
Cornwall
PL31 1DE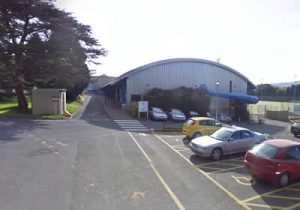 TESTS AND FACILITIES
Riding Tests Provided: Motorcycle module 2 (on-road)
Parking Facilities: There are parking spaces available
Toilets: Male only toilets available
Disabled Access: Arrangements will be made at this test centre if you have a disability
Launceston MOTORCYCLE RIDING TEST CENTRE
Suite 4 Sheers Barton Barns
Lawhitton
Launceston
Cornwall
PL15 9NJ
TESTS AND FACILITIES
Riding Tests Provided: Motorcycle module 2 (on-road)
Parking Facilities: There is a parking space at this centre
Toilets: No test candidate toilets available. The nearest public toilets are located at Westgate Street & Tower Street car parks.
Disabled Access: 
Camborne MOTORCYCLE RIDING TEST CENTRE
Wilson Way
Redruth
Cornwall
TR15 3RP
TESTS AND FACILITIES
Riding Tests Provided: Motorcycle module 1 (off-road), Motorcycle module 2 (on-road)
Parking Facilities: There are no parking facilities at this centre
Toilets: Male only toilets available
Disabled Access: Arrangements will be made at this test centre if you have a disability
Penzance MOTORCYCLE RIDING TEST CENTRE
1 Alverton Terrace
Penzance
Cornwall
TR18 4JH
TESTS AND FACILITIES
Riding Tests Provided: Motorcycle module 2 (on-road)
Parking Facilities: There are parking facilities at this centre
Toilets: Toilets are available to use in the town hall
Disabled Access: Arrangements will be made at this test centre if you have a disability