Motorcycle Riding Test Centres Oxfordshire
Provided are the address location, type of motorcycle tests provided and other facilities for motorcycle riding test centres in Oxfordshire.
Within the Oxfordshire area, there are currently two DVSA (Driver and Vehicle Standards Agency) practical motorcycle test centres offering module 1 (off-road) and module 2 (on-road) tests. Centres are detailed below along with any facilities they offer.
Official Motorcycle test routes are available for many of the UK centres and provide a valuable resource into gaining familiarity with they types of roads you're likely to be taking during the module 2 test.
Motorcycle test routes can change over time and may possibly change on the day of your module 2 (on-road) test due to weather conditions or traffic congestion. Test routes are subject to change at the discretion of the examiner. Test routes provide an excellent resource into understanding the types of roads taken during your test.
Oxford MOTORCYCLE RIDING TEST CENTRE
Kassam Stadium
Grenoble Road
Oxford
Oxfordshire
OX4 4XP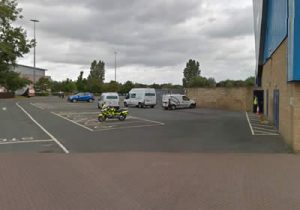 TESTS AND FACILITIES
Riding Tests Provided: Motorcycle module 1 (off-road), Motorcycle module 2 (on-road)
Parking Facilities: Parking facilities are available at this test centre
Toilets: Male and female toilets are available
Disabled Access: 
Banbury MOTORCYCLE RIDING TEST CENTRE
3 West Bar Street
Banbury
Oxfordshire
OX16 9SD
TESTS AND FACILITIES
Riding Tests Provided: Motorcycle module 2 (on-road)
Parking Facilities: Parking facilities are available at this test centre
Toilets: Male and female toilets are available
Disabled Access: No wheelchair access. Arrangements will be made for disabled test candidates