How Long Does CBT Course Take to Pass?
There's no specific set time for a motorcycle CBT course to take place over. If the course is taking place in a single day, you can expect it to take anywhere from 6 to 8 hours including breaks.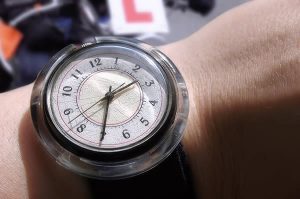 How long the CBT course takes to pass depends on how many candidates the instructor is teaching and how well the candidates progress through each element. The CBT course comprises of 5 elements; A to E and a particular elements time may need extending if a candidate requires additional help.
How Long Does Each CBT Element Take?
Element A takes around 15 minutes and involves the eyesight test, discussion about the day and appropriate clothing that should be considered for rider safety.
Element B takes around 30 to 40 minutes and introduces you to the motorcycle, the controls, safely checks plus pushing and wheeling your machine.
Element C is often the longest session as it involves practical learning and exercises. It is this section where candidates must show they have basic balance and control skills in order to progress. Element C takes around 2 hours but may be extended depending on candidate abilities.
Element D is preparation for riding on the road. It takes anywhere from 45 to 60 minutes and is a discussion, or theory lesson about what you can expect on the road, what you need to do and how to do it.
Element E is where all previous elements combine and takes you out onto public roads with your instructor. There is a compulsory minimum time of 2 hours for element E. This is a legal requirement and if when taking this element it does not meet or exceed the 2 hour period, you should contact the DVSA.
For this session, it's important that at least 2 hours is taken so that learner riders are taken through as many different roads and traffic situations as possible so that they can learn and demonstrate their ability to the observing instructor. It's only when the learner rider demonstrates consistent safe riding ability is when the CBT certificate will be issued.