Motorcycle Riding Test Centres Cumbria
Provided are the address location, type of motorcycle tests provided and other facilities for motorcycle riding test centres in Cumbria.
Currently there are three motorcycle test centres within the Cumbria area with one of those providing the module 1 test. Official Driver and Vehicle Standards Agency (DVSA) test centres must be used for taking the module 1 and module 2 test. The three DVSA test centres in Cumbria are detailed below.
Motorcycle test routes are devised by the examiners who conduct the tests and will typically involve challenging and varied roads. Browsing the test routes for your area may prove beneficial by allowing you an insight into the types of roads you can expect on your module 2.
Test routes start from the test centre and range for several mile radius and involve many varied road types. Practice the areas local to your test centre as statistically, many tests are failed here.
Barrow In Furness MOTORCYCLE RIDING TEST CENTRE
Trinity Enterprise Centre
Unit 11 Ironworks Road
Barrow-In-Furness
Cumbria
LA14 2PN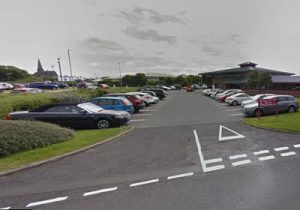 TESTS AND FACILITIES
Riding Tests Provided: Motorcycle module 2 (on-road)
Parking Facilities: There are parking spaces available
Toilets: Male, female and disabled toilets are available
Disabled Access: You can get into the test centre in a wheelchair
Workington MOTORCYCLE RIDING TEST CENTRE
Unit 10-11, Moss Bay House
40 Peart Rd, Derwent Howe Industrial Estate
Workington
Cumbria
CA14 3YT
TESTS AND FACILITIES
Riding Tests Provided: Motorcycle module 2 (on-road)
Parking Facilities: Car parking spaces are available.
Toilets: Male and female toilets are available
Disabled Access: You can get into the test centre in a wheelchair
Carlisle MOTORCYCLE RIDING TEST CENTRE
Port Road Business Park
Port Road
Carlisle
Cumbria
CA2 7AF
TESTS AND FACILITIES
Riding Tests Provided: Motorcycle module 1 (off-road), Motorcycle module 2 (on-road)
Parking Facilities: Car parking spaces are available
Toilets: Male, female and disabled toilets are available
Disabled Access: You can get into the test centre in a wheelchair