Motorcycle Module 1 Test Explained
After you have taken compulsory basic training (CBT) and have successfully passed the motorcycle theory test, the next stage is the motorcycle module 1 test.
Module 1 is a practical off-road riding test that must be passed before you can take module 2 (on-road), where after passing module 2, you'll receive a full motorcycle licence.
Module 1 can only be booked and taken at Driver and Vehicle Standards Agency (DVSA) motorcycle test centres, and takes around 20 minutes to complete. Not all driving test centres offer motorcycle tests. Module 1 allows examiners to test you at set speeds and to conduct manoeuvres whilst in a safe off-road environment. This section will explain what happens in the motorcycle module 1 test, along with tips for passing.
Arrive for your module 1 test in good time as arriving late is likely to see your test being cancelled along with the loss of test fee. Another reason for text cancellation and loss of fee can be forgetting the correct documents. If the DVSA cancel your test due to any of these reasons, you'll need to book and pay for another one. Remember to take along these documents:
Your theory test pass certificate if you needed to take one.
Photocard driving licence. If you have the old-style paper licence then you'll need to take that along with a valid passport.
Compulsory basic training (CBT) certificate (DL196), unless you already have a full motorcycle licence and are upgrading.
Appropriate Safety Helmet and Clothing
Ensure you have appropriate safety helmet and clothing. If the examiner feels your clothing is unsuitable, there's the possibility your test may be cancelled. For further information, see:
When you arrive at the test centre, the examiner will come out to greet you, where you'll then be asked to sign a declaration form DL25MC. The examiner will then ask to see your documents. After the examiner has checked your documents, you'll be asked to take your motorcycle to manoeuvring area.
Motorcycle Manoeuvring Area
The motorcycle practical test Module 1 is off-road and normally takes around 20 minutes. The test includes: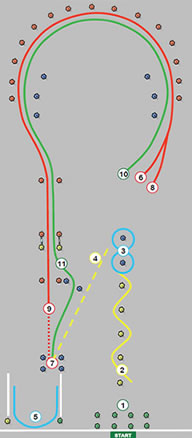 For further details on the manoeuvring area and its layout, see
Motorcycle Module 1 Pass Mark
At the end of the test, the examiner will inform you of whether you have passed or failed. In order to pass, you must not exceed 5 rider faults. If you make a single serious or dangerous fault (or more) you will fail the test.